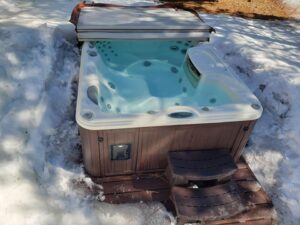 Hot Tub Services and Rates
HOT TUB ROUTINE MAINTENANCE (up to 20 minutes each time)
Two Spa Checks (our chemicals) - $90.00 per month
Four Spa Checks (our chemicals) - $140.00 per month
REPAIRS     
Labor rate of $105 per hour (1 hour min. billed) + parts
After hours or weekends $155 per hour
DUMP AND SCRUB
$160 for each hot tub
SPA CHECKS INCLUDE (up to 20 minutes each time):
Pull, rinse, and clean filters as needed
Add water to spa (if water is on and hose bib is accessible)
Adjust pH level
Cleaning filter well or surface ring at water level
Net spa and clean bottom
Check pump and blower operation
Adjust total alkalinity
Add bromine, chlorine, clarifier, spa shock, oxidizer, stain-n-scale, and defoamer as needed
NOTE: Snow removal to access spa equipment, lid, hose bibs, and paths is additional $75 (for up to first hour). Turning on and off house water and re-winterizing is additional $50.
​
You should routinely drain, clean and refill spa once every three to six months (spas used weekly by different families should be routinely drained and filters soaked in chemicals at least once a month or with each new rental), as a spa is nothing more than a large bathtub. Spa filters should also be soaked in chemicals once a month. Spas can get chemical-bound and contaminated rapidly, due to the warm temperatures, which promote algae and bacterial growth.
Contact us to ensure proper maintenance
Ready?
Contact now if you are ready to request services or have any further questions.